Looking for Harley-Davidson® Events Near Dallas Texas?
Hit the road for Dallas bike night. Join riders from Mesquite, Rockwall, Rowlett, Heath and beyond for top Harley-Davidson® events. Connect with biker groups who love their Harley® as much as you love yours at one of these upcoming events.
Dallas and Garland Harley® Events Let You Experience The World
You may be a regular at Dallas and Garland Harley events, a seasoned rider, a new rider, or a non-rider completely new to the Harley Experience - everyone is welcome to come and have some fun the Harley way.
We have a range of social and riding events taking place at the Garland dealership and in the local area and H.O.G.® group rides to the legendary Harley-Davidson® international rallies. See what's coming up or speak to a member of the team and find out more and get involved.
Featured events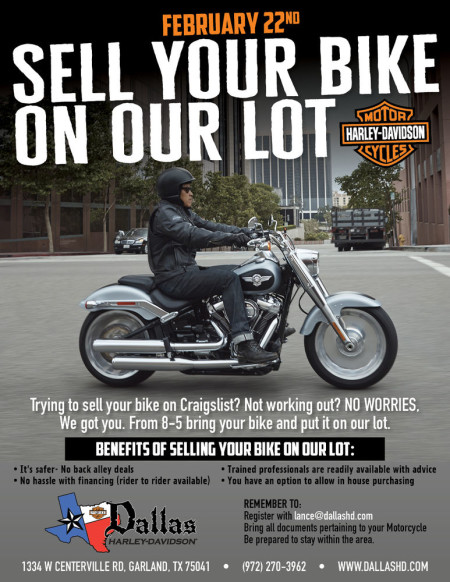 Sell your bike on our lot! Trying to sell your bike on Craig's list? Not working out? NO WORRIES! We got you! From 8-5 on 2/22/2020 bring your bike and put it on our lot! *It's safer- No back alley deals *No hassle with financing(rider to rider available) *Trained professionals are readily available with advice *You have an option to allow in house purchasing
Find out more
POLAR PLUNGE BIKINI CONTEST! To enter please email marketing@dallashd.com 4/4/2020 BIKINI CONTEST! VENDORS!- Email marketing@dallashd.com LIVE MUSIC! MOTORCYCLES! SHAKE OFF THE WINTER BLUES WITH DALLAS H-D! Contest starts at 2:00 pm!
Find out more
Upcoming events