Sell your bike on our lot!
Event location
Dallas Harley-Davidson®
1334 W Centerville Rd, Garland, TX 75041
February 22, 2020 8:00am - 6:00pm
Best Way to Sell a Used Motorcycle Near Dallas
You've listed your bike on Craigslist, and all you got was that scam artist who wants to steal your personal information. You listed it on Facebook marketplace and only heard from a few low-ballers. So what's the best way to sell a used motorcycle near Dallas? Sell it on our lot!
Christmas just happened. Everybody is broke. They won't get their tax returns for a few months yet. If you want to sell it now, doing it at our dealership is the best way to do it. 
The huge number of pre-owned motorcycles for sale will draw a bigger crowd of interested buyers. There are no back-alley deals, no shady characters messaging you. Plus, we make it possible for buyers to afford your bike, because they can use our in-house financing to pay you top dollar.
If you have a bike to sell, don't miss this event. Mark your calendar now for February 22 from 8-5.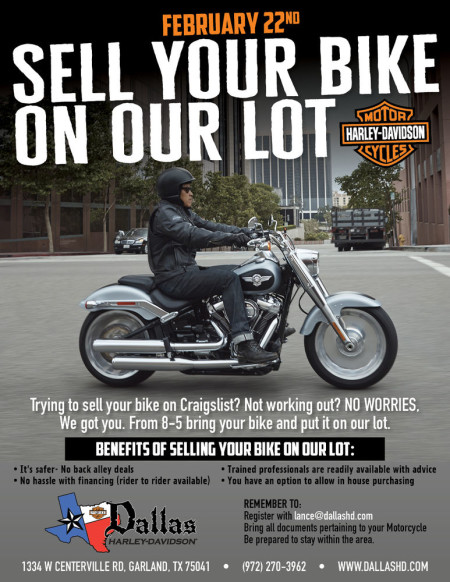 Back to previous page